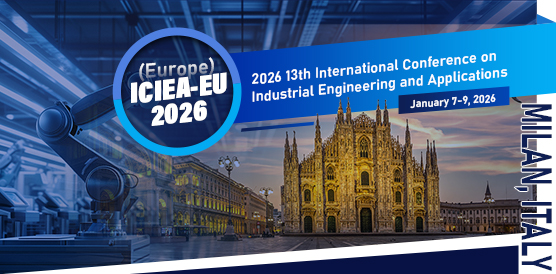 Peer-Review
All academic papers will be submitted to the technical committee for double-blind peer review according to the reviewing policies. After the reviewing, accepted papers will be invited to be presented either on-site or online, and will be published in the conference proceedings, which will be included in major databases.
Special Sessions
Session I: Machine Learning and Industrial Engineering with Applications
Organizer: Roberto Montemanni, University of Modena and Reggio Emilia, Italy
Session II: Recent Advances in Multi-robot Systems: Modeling, Optimization and Applications
Organizer: Rabah Ammour, Aix-Marseille Université, France; Said Amari, Université Sorbonne Paris-Nord/ENS LURPA Paris-Saclay, France; Dimitri Lefebvre, Université Le Havre Normandie, France
Session III: The Hybrid Lean-Agile Design and Hybrid Lean-Agile Manufacturing Systems
Organizer: Mohammed Alkahtani, King Saud University, Saudi Arabia
Submission
The online submission system is opened at EasyChair here:
https://easychair.org/conferences/?conf=iciea2024europe
An easychair account is needed. Without account, please register first.
Full paper Template LaTex | Full paper Template | Abstract Template
Final Submission Deadline: November 25, 2023
>Quick path for listener participants.